Whether it's because of job opportunities and growth, potential to earn more income or to remain competitive in the workplace, you may be considering getting an advanced degree from graduate school. These advanced education degrees, either Master's or Doctoral can be highly desirable from the perspective of a job seeker, an employee and an employer.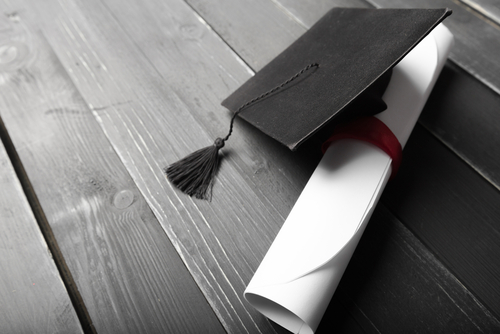 A key benefit of obtaining an advanced degree is that it often will allow you to bypass entry-level jobs and immediately land in higher paying roles with greater opportunities for professional growth. Many senior management and professional jobs, and specialty professions require a master's or doctoral degree. Regardless if you are continuing your education or going back, you need to understand if an advanced degree is right for you.

What is an Advanced Degree?
An advanced degree is a postgraduate degree, such as a master's or a doctorate. These degrees are higher than your undergraduate degree, whether an associate or bachelor's degree. An advanced degree will require that you take additional years of education.
What is a Master's Degree?
A master's degree can be earned in just about any field. You continue or return to school to take the required classes and exams to earn your master's degree. It can take 1-3 years to complete your master's degree. Common types of master's degrees include:
Master's of Arts and Humanities (M.A. or M.F.A.)
Master's of Business Administration (MBA)
Master's of Education (M.Ed.)
Master's of Science and Technology (M.S.)
What is a Doctoral Degree?
A doctorate degree (Ph.D.) is the highest level of education you can get. Like a master's degree, you can earn a doctoral in numerous fields including psychology, history, computer science, and engineering. A Doctoral degree will provide you an opportunity for research or professorship in the field of your interest. Depending on the field of study you choose, you can get your doctorate in 3-7 years.
Online versus Traditional Grad School
As you are considering grad school, you may be considering online programs as well as traditional programs on a campus.
Many prestigious universities now offering a master's degree through completely online programs. And employers have come to view online degrees with increasing acceptance. Online graduate school programs may be especially appealing because many students at this level are already working in the field. These programs can offer easy access, convenience, and flexibility. As an online student pursuing an advanced degree, you'll work to improve your knowledge and skills in a specialized area.
Many accredited online degree programs feature not only live classes but face-to-face classes as well. They also provide real-world learning experiences and a curriculum designed and by university faculty. Most programs can be completed on a full-time or part-time basis.
Today, the number of possibilities for getting your Master's degree online is greater than ever. Whether it's Business, Education & Teaching, Criminal Justice & Law, Nursing & Healthcare, and Engineering, there is a wide variety of options to help advance your career and achieve your goals.

Traditional graduate school has its place as well especially if you are currently pursuing your undergraduate degree and can simply continue your classes. You also may gain some great networking opportunities if on campus and in actual classrooms.
When evaluating which grad school program to enroll in, consider the cost, quality of faculty, the reputation of the university for providing high-quality education and your own ability to attend school from home. This way you'll be able to decide if online versus traditional is the best for you.
Types of Advanced Degrees
Master's Degree in Business (MBA)
A master's degrees in business provide a more focused business education than other available graduate business programs. A master's degree in Business prepares students with leadership skills that are vital to advancing careers. Many programs require an internship or work experience and offer opportunities to network with classmates and business leaders.
Master's Degree in Education
Certain schools and school districts may require their teachers to have a master's degree in Education. By taking courses to earn your degree, it can lead to career growth and might also provide the necessary teaching credentials or licenses and lead to an increase in salary.

Criminal Justice Programs
Obtaining a master's degree in Criminal Justice, can help graduates study criminal behavior, take on leadership roles in the justice system, work on research or policy analysis. Some top careers for those with a master's degree in criminal justice include: Private Investigator, Criminal Investigator, Police Investigator and Intelligence Research Specialist.
For those who are interested in a career in law, going to law school and getting a juris doctor degree (J.D.) is a great first step toward a legal career
Medical Programs
Due to the growth of nursing degree programs, students can advance their careers in one of the most demanding healthcare professions. Advanced nursing degree programs give students more options for finishing their degree in a timely and cost-effective manner. Many programs include a clinical component, often on campus or at a facility near a student's home.
The well-known graduate degrees of a doctor of medicine (M.D.) is often a four-year program combining coursework with clinical practice. Medical school furthers your knowledge you received in your undergraduate studies and prepares you for a career as a physician.
Engineering Programs
There are several options for those looking to earn an engineering degree to pursue, including specializing in specific areas such as civil, electrical or mechanical engineering. An engineering master's degree makes a much more competitive candidate in the job market, particularly when it comes to management and executive roles.
Benefits of Advanced Degrees
Specialized Knowledge
Earning a master's degree helps you gain specialized knowledge to advance in your field. As the workforce evolves, a graduate degree shows you're dedicated to enhancing your industry expertise and credibility. You can focus on a particular field of study, which helps you become more competitive in your field.
The benefits of a master's degree can also help you build on your current abilities, gain new skills, or even transition to an entirely new field. There are hundreds of graduate degrees you can earn in various industries, from business to design.
Career Advancement
A master's degree can make it easier to transition into more senior positions, such as management and leadership. Many organizations not only recognize the benefits of a master's degree, but even prefer their employees to have one. In fact, 74 percent of employers have raised educational standards over the last several years, with many companies looking to hire those with advanced degrees. In certain industries, such as education or health care, graduate degrees offer mandatory training and the best path for certain jobs or promotions.
Increased Earning Potential
By earning a master's degree, you can significantly increase your income. On average, employees with a bachelor's degree earn $50,360 per year, while those with a master's degree earn a median annual income of $68,064—a 35 percent increase.
In certain fields, there is an even larger gap between employees with a master's degree and those with less education. According to Georgetown's Center on Education and the Workforce, biology and life sciences majors with advanced degrees earn 63 percent more than those with bachelor's degrees, while graduate degree holders who majored in health and medical preparatory programs earn 137 percent more than those with bachelor's degrees.
Overall, employees with bachelor's degrees earn $2.27 million over their career, while those with advanced degrees can earn up to $3.65 million. This is a remarkable difference demonstrating that if you're already college educated, earning a master's degree can add a significant boost to your paycheck.
Lifelong Learning
The benefits of a master's degree also help you improve your researching, writing, and analyzing skill set. As a result, you can become a better problem solver and more easily tackle complex projects. By earning a graduate degree, you continue to expand upon a wealth of knowledge, preparing you for a life of constant learning.
In addition, 73 percent of Americans consider themselves lifelong learners, and 74 percent have participated in an activity over the past year that enhances their lifelong pursuit of knowledge.
Think you don't have the time? Don't worry, many universities now offer the option to earn your master's degree online—allowing you to create a schedule that works around your busy life.
Enhanced Professional Network
Whether you take courses online or in-person, your fellow classmates come from a wide variety of industries and backgrounds. As a graduate student, you are connected to numerous professionals—many of whom are successful in their careers. You also study with professors who are industry leaders, providing real-world knowledge with valuable networks.
At Northeastern, we have more than 230,000 alumni and 3,000-plus employer partners in 150 countries. From the moment you start class, you have an ample network to help you advance your career.

Benefits of an Advanced Degree
The decision to continue your education or go back to school is a difficult one. You may be asking what are the benefits of an advanced degree. Here are some:
Career Advancement
In order to progress in your career, you may want or need to consider advanced degree. In order to be promoted to a senior position, such as management and leadership, you may be better off if you have a master's degree.
Specialized Field and Higher Level Careers
Certain fields may require specific knowledge and skill development. Positions in criminal justice, law, government, and other public sector areas, may require you have an advanced degree.
Increased Earning Potential
By earning an advanced degree, you can significantly increase your income. Some calculate as much as 35% more.
Enhanced Professional Network
By continuing your education, you increase your network of people via fellow students, faculty and professors, and others you connect with during internships, classes and programs. Their individual backgrounds and resources can become a wonderful source for you professionally.
Lifelong Learning
By working toward earning a graduate degree, you continue to expand upon a wealth of knowledge, preparing you for a life of constant learning.
In Summary
Are you interested in exploring advanced degree programs? Review our list of colleges, graduate schools and online schools.